Innovation
Two new wrapping machines for efficient and sustainable packing
20 July 2023
We recently commissioned two wrapping machines, which help us pack our customers' products safely and efficiently. It is a sustainable solution, supplied by Idépack Verpakkingsmachines B.V.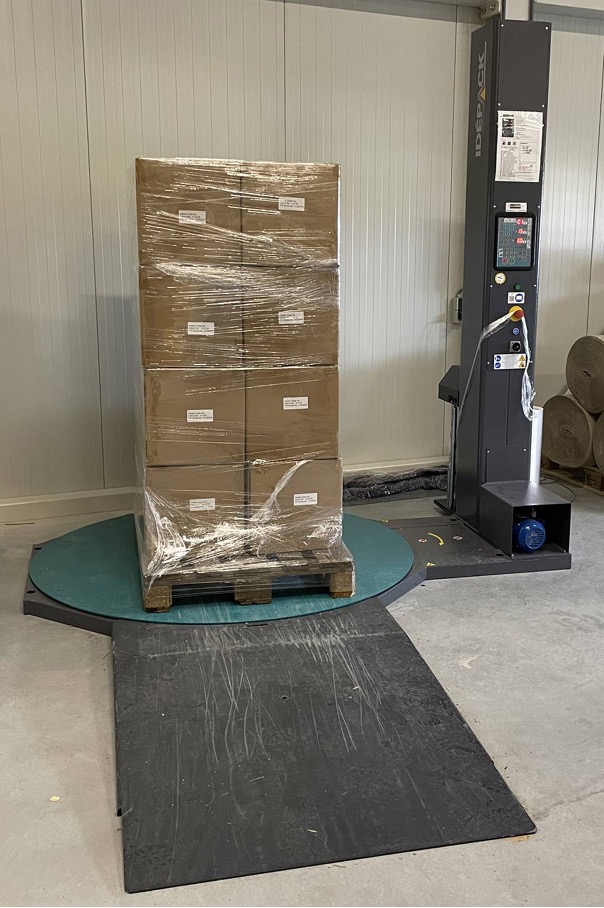 One of the most striking features of the new wrapping machine is the powered film pre-stretching system, which maximizes film usage. With a pre-stretching capacity of 300%, one meter of film can be stretched to up to four metres, which means that we save no less than 75% film in the packaging process compared to a machine without pre-stretching. In addition, the machine continuously measures and corrects the wrapping force, which ensures optimal packaging with less material waste.
In addition, the machine offers six fully adjustable and storable wrapping programs, which can even be locked for extra safety. This allows us to effortlessly adapt the machine to different packaging needs. The winding force can be set in four stages. With this function we have developed a special program for light, normal and heavy loads. In addition, there is a program for watertight wrapping with a top sheet, which ensures the protection of valuable goods.
The machines have an ultra-thin film of only 15 microns thick. The film is made up of 67 layers of 9 different pellets, achieving a pre-stretching capacity of 350%. This allows the packaging power of our new machines to compete with standard 20 micron pre-stretch films, while using as much as 35% less plastic.
Another attractive aspect of this solution is that the stretch wrapping film of our machines is recyclable, which contributes to sustainable packaging.
In short: with the new wrapping machines we not only make the packaging of goods more efficient, but also more environmentally friendly. Reducing plastic waste is critical in this day and age, and we are proud to contribute to more sustainable packaging solutions.