J. Heebink Logistic Services are well prepared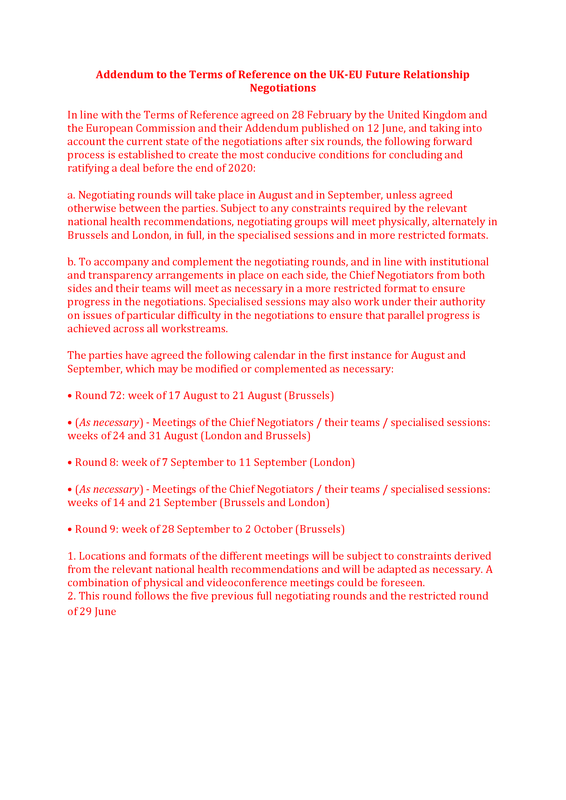 Just an update regarding the Brexit
The United Kingdom is definitely not going to extend the transition phase of the Brexit. This has been announced by the British minister Michael Gove. On January 1, 2021, they regain control and regain their political and economic independence. Many talks will follow between the EU and the UK in the coming months. Apart from the final agreements on the future relationship with the UK, after December 31, 2020 there will be boundary formalities in traffic to and from the UK anyway.
Negotiations in full swing
The negotiating rounds will take place in August and September 2020, unless agreed otherwise between the parties. This is subject to any restrictions imposed by the relevant national health.
The negotiating groups will meet physically over 6 rounds, alternately in Brussels and London. Divided into specialized sessions as well as in limited formats. This is to ensure that parallel progress is made everywhere in the negotiations.
These negotiations will take place over 3 weeks;
– Week from August 17 to August 21 (Brussels)
– Week of August 24 and 31 (London and Brussels)
– Week of September 14 and 21 (Brussels and London)
In the meantime, time is running out for the British as they will leave the EU on January 1, 2021.
Do you have your commodity codes?
Establish commodity codes for your goods.
This will allow you to apply the correct rate and amount of Duty and keep you compliant with HMRC.
It also enables Heebink to correctly declare your shipments.
Find your commodity codes at:
www.gov.uk/trade-tariff
Do you have your EORI number?
If you do not have an active EORI number one will be needed for Customs Clearance.
It's free to apply and the process only takes a few minutes.
Find your EORI number at:
www.gov.uk/eori
IF THE ANSWER TO ANY OF THESE QUESTIONS IS "NO" THEN YOU NEED TO ACT NOW!
Paperwork Checklist
Required with all shipments. Is your shipping department able to provide a commercial
invoice & packing list for every shipment? We will require to following information;